FUJIWARA LOGISTICS VIETNAM CO.,LTD.
Overview
Company Profile
Trade name
"FUJIWARA LOGISTICS VIETNAM CO.,LTD.
(FUJIWARA LOGISTICS VIETNAM CO., LTD.,abbreviation FLVC)"
Establishment
October, 2014
Capital
USD 200,000
Representative
Kazuto Masuda
Business contents
Land freight business, Warehousing, Customs Clearance, Container cargo warehousing, International freight forwarding industry, Management consulting services
location
Head office
5th Floor, Duong Anh Building, 181, Dien Bien Phu Street, Da Kao Ward, District 1, Ho Chi Minh city.map
TEL:08-3824-5841
FAX:08-3823-9541
Feature of FLVC
■ Thorough logistic support for the companies expanding business to Vietnam
One of the issues that company face when trying to expand their business to Vietnam is how you can build logistic systems between Vietnam and Japan or within Vietnam that is close to Japanese quality.
Also, it could be very complicated process to get customs clearance and the obtain permission fron Vietnamese authorities in order to import equipment and machineries from Japan.
As a member of Fujiwara transport group (expert in transporting heavy goods), FLVC help you resolveing your concerns and support your advancement into Vietnamese markets.
■ Support to all cargo and business area to cover the entire Vietnam
FLVC has a very strong relationship with local partner companies in Vietnam.
We are based in Ho Chi Minh City and our sales area covers all over Vietnam by using our relationship with local companies.
We are also available to transport between Vietnam and other countries including Japan.
From heavy goods (construction equipment, steel, machines and etc.) to merchandise (food, clothes and etc.), we will fit to your needs.

Business History
A. Integrated transport of machining center from Japan to Vietnam
(Scope of work) import customs clearance, transportation, unpacking, loading installation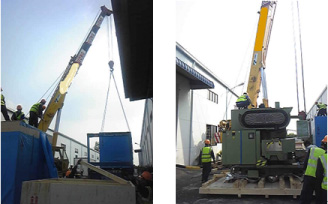 B.Integrated transport from Japan of the horizontal machining center to Vietnam
(Scope of work) Japan domestic carry-out transport, export packaging, export clearance, shipping, marine transportation, transportation, unpacking, loading, installation work

C.Integrated transport to Vietnam from Japan of the injection molding machine (injection)
(Scope of work) export packaging, export customs clearance, banning, shipping, transportation, unpacking, loading, installation

D. Other
Handling Integrated transport business of construction equipment from Japan for ODA projects in Vietnam
Exporting parts of vehicle carrying tool
Exporting lithium battery materials, marine transportation and delivery within Japan
Transporting sheet steel processed products in Vietnam
Exporting food processing machinery
Exporting plant parts, and others