International logistics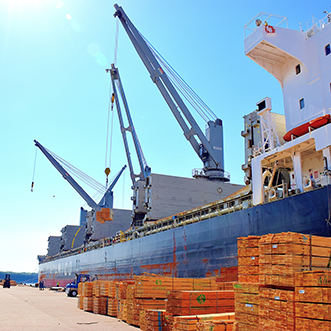 Our company delivers your freight to all over the world safely, certainly, promptly and efficiently by using various means of transport and experience as an international logistics coordinator for many years. We suggest logistics suitable for customers' needs from steel materials, wood, material cargo such as bulk cargo etc., machinery facility, industrial products such as vehicles etc., to food, garments, and general goods. We cope with from domestic transportation and delivery using our vehicles and associated companies to packing, storage, customs clearing, and transportation and installation at the place of destination consistentely. We suggest optimum strategic international logistics for customers' needs about import and export.
International logistics services
Port transport
We present you, as a specialist of conventional ship cargo handling and legal holders of license for port transport business, a transport service which unites land and sea.We offer a reliable service, via a staff full of experience, of fast entry-departure procedures of ships on behalf of ship agency businesses, making full use of CAD system based on a stowage plan created to load, unload, and rope cargo handling work, for conventional ships/RORO ships/ PCC ships/ Bulk ships, for vessels regardless of domestic or foreign.Furthermore, we will even carry cargo from the hull of a 200-ton wrecker safely and swiftly by an experienced staff who have the ability to make full use of a variety of cargo handling machinery.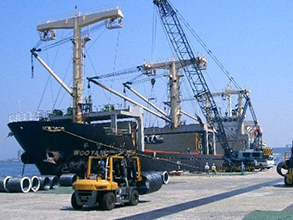 Export / import cargo handling by ocean and air transportation
We will also organize a mix of air and sea transportation according to the various needs of export/import for our customers. Although we take strength in large, heavy cargo, we will also deal with various small cargo. We do anything from packaging in export,vanning, loading into container yards, transporting and installing in the destination, devanning in the port transportation department after import,domestic delivery, and delivery in general. In Osaka and Kobe, we have a container yard fully equipped with machinery to handle cargo along with great know-hows to help customers export second-hand vehicles.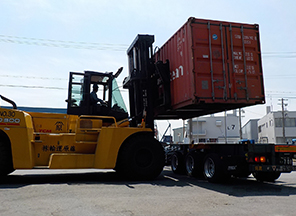 Customs clearance・bond
We will provide quick and fine customs clearance ,bonded, other laws and regulations correspondence by the cooperation with our customs clearance department and relationship each department.We will also correspond to the applicant business based on food sanitation act and plant quarantine act, etc in food imports