Warehousing and storage

In the storehouse of our company we not only offer storage for our customers' goods, we offer "storage and extra" according to the needs of each customer such as preserving the quality of products, different storage spaces for different storing temperatures, distributing process, packaging, and picking. Please allow us to handle the details of the imports and exports, customs taxes, and delivery.

"Storage+α" service
Quality control

Our company's storehouse not only deals with storage but also maintaining the quality of each individual product. For instance, we can do maintenance on the steel products or maintain the quality while repackaging the product our customers have trusted us with. Furthermore, our Kobe branch can deal with different temperatures for food products by using refrigerated storehouses, or ripening storehouses and smoking chambers to meet the needs of each individual customer. And of course, we keep the interior of our storehouses clean with a Japanese standard called the 4S.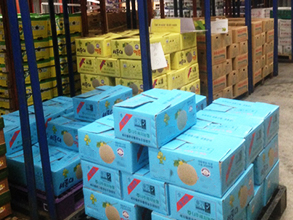 Processing
We answer to the each of the different needs of the distribution process in order to decrease the lead time in the supply chain of products. We deal with each small detail in picking, packing, placing in storefronts, packaging in bags, labeling, refrigerated storage, and etc. Additionally, we answer to broader needs such as stenciling of imported lumber or shot priming steel and etc.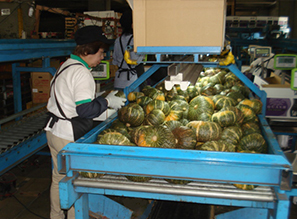 Other service
Do not hesitate to consult with us because we will deal with each customer's individual needs such as picking.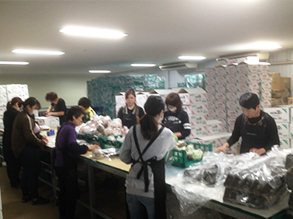 Warehouse business handling cargo
We handle a variety of objects such as heavy articles ranging from steel, iron/steel semi-products, cast-iron pipes, aluminum, lumber, glass products, cement, bulk cargo, construction materials, and machinery equipment, or regular articles such as food products, apparels, shoes, medicinal equipment, automobile parts, fishing goods, bicycles, and daily commodities. We support both indoor storage and open-air storage. We have a complete set of equipment such as an overhead crane or a forklift for heavy cargo to fulfill your needs.