Domestic logistics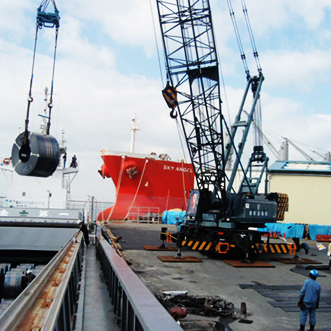 With more than 20 domestic bases, we present you a new attribute in transportation by utilizing rich know-hows and networks and utilizing customers' logistics as a new strategy. We offer an effective and low-cost domestic delivery service by employing a network which designs cooperation with local transport and railroad transport companies. We recommend a modal shift, a combination of ferries, domestic ships, and JR cargo freights for long distance transportations.

Domestic logistics service
Land transport
We use a network that connects companies with our partnership to our advantage to deliver any cargo, whether large or small,  to our customers across the country safe and efficiently by special carriers. We hold pride in our achievement of transporting over 1.4 million tons of steel annually. We cooperate with our storage department to make all processes from checking our storehouse, storing, to transporting goods, smooth.

Modal shift
We offer a cost-repressed delivery service that is both friendly towards the environment and cargo by employing a combination of ferry and domestic shipping for sea transport and JR cargo freights for land.