Osaka Branch Nanko Logistic Division Operation Logistic Department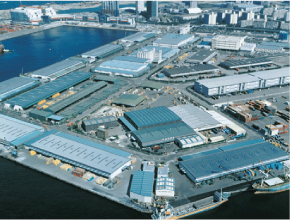 | | |
| --- | --- |
| Address | 8-9-45, Nanko-naka, Suminoe-ku, Osaka-shi Osaka-fu 559-0033 Japan |
| TEL | 81-(0)6-6612-3721 |
| FAX | 81-(0)6-6612-3735 |
| Contents of Operation | Port Transportation, Marine Cargo Handling, Warehouse Business |
| Handling Cargo | 1 Steel (coil), 2 Steel (iron plate) , 3 Steel (section steel), 4 Plant related material etc, 5 Heavy Object, 6 Marine Container, 7 Container Cargo and others. |
Feature of Osaka Branch Nanko Logistic Division Operation Logistic Department
■ Integrated Transportation through Land and Sea
We provide service mainly for import/ export cargo as a base of distribution network, with Nanko L-7 Warehouse and Nanko D Building Warehouse being central pillars. These 2 warehouses are specialized in handling iron and steel related heavy equipment. We introduce Integrated Transportation System through Land and Sea utilizing L-7 quay wall and warehouses.
■ Meet different needs of our clients
As the department located behind Nanko L-7 quay wall whose mooring capacity is 15.000t, warehouse is equipped with overhead crane and 200t crane and other loading facilities are equipped, we can handle all kinds of cargo.
■ Logistic system created with deep knowledge of steel related products
We have a top-class achievement of handling steel related products in Osaka area, and we ensure accuracy, speed and safety in quality control and processing. We have a experienced staff and variety of facilities to meet clients' different needs.
Facilities
Nanko L-7 Warehouse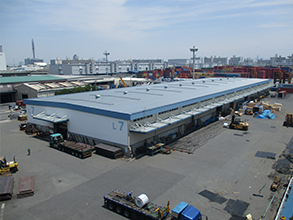 Address
8-9-45, Nanko-naka, Suminoe-ku, Osaka-shi
Site Area
10,426㎡
Warehouse Area
2,780㎡
Tenant House
747㎡
Structure
Steel Construction
Handling Machinery
1 200t Crane
Forklift up to 20t
Wharf
Length 20m
Water depth 10m
Nanko building D warehouse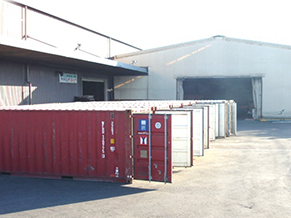 Address
8-9-3, Nanko-naka, Suminoe-ku, Osaka-shi
Site Area
6,605㎡
Warehouse Area
3,445㎡
Tenant House
793㎡
Structure
Steel Construction
Handling Machinery
1 Overhead Crane 20t
1 Overhead Crane 10t
Forklift up to 30t