Kobe Branch Rokko PD Center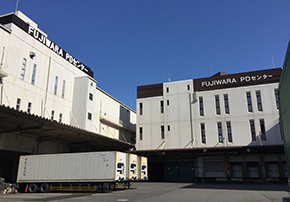 address
658-0033 Japan
Koyocho-nishi 2, Higashi Nada-ku, Kobe-shi,
TEL
81-(0)78-857-1800
FAX
81-(0)78-857-1650
Contents of Operation
Harbor transport,Sea freight handling business,Coast work,Warehouse business,Entry business,Food processing,Delivery business
Handling Cargo
1. fresh vegetables and fruits (pumpkin, onion,broccoli, avocado, pineapple, mango, etc.)2. flowering plants3. frozen food 4. general food other
Feature of Kobe Branch Rokko PD Center
■ Handling of the freshness vegetables of the Kobe Port top-class
At the Rokko PD center,we introduce integrated transportation system from custome clearance, cargo handling, distribution processing, and delivery mainly for imported perishable food.
We comprise fumigation facilities eight rooms of A, normal fumigation facilities two rooms, refrigeration, freezing facilities especially.
As our Maya warehouse also handle fresh vegetables, we cooperate to offer best service. In the handling of freshness vegetables, we have the top-class business history in the Kobe Port.
■ Corresponding to the diverse needs of customers
On top of frozen and refrigerated storage of food, we offer fumigation of fresh vegetables at a low price as equipped with a small fumigation warehouse.
We provide distribution process from sorting and packing, processing operations such as sorting, bagging, labeling for the over-the-counter sales, to the thermal processing of imported fruit.
In addition, we operate inventory management, warehousing, picking, goods issue of items of various kinds depending on the customer's order acurately and promptly.
Please consider as a distribution center as well
■ Professional staff
We have expert staff who are familiar with each category from trade operation of perishables to refrigeration, frozen safekeeping, circulation processing, land transportation, and delivery. We have OB from plant protection place to reinforce plant quarantine operation and expand customer service.
Please feel free to inqure anything about the import and export of plant freight. We handle your important cargo with a feeling of "respect customer and products" for our important freight.
Facilities
Rokko PD Center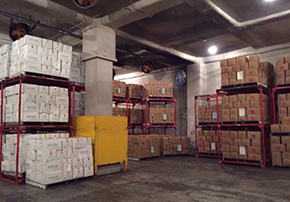 Site Area
10,538㎡
Warehouse Area
8,639㎡
Bonded Shed
7,821㎡
Structure
3 Story Reinforced Concrete Structure and 2 other buildings.
Storage Facilities
Fumigation warehouse and refrigerated warehouse 9 rooms
Refrigerator 7 rooms
Fumigation warehouse 1 rooms
Room temperature usually warehouse 1 rooms
Processing plant 2 rooms
Tent warehouse 1 warehouse
Ancillary Facilities
Loading apron (ten large vehicles)
Dock shelter
Power conditioning for Reefer container
Handling Machinery
Forklift up to 37t
Battery-powered Forklift