Matsuzaka Division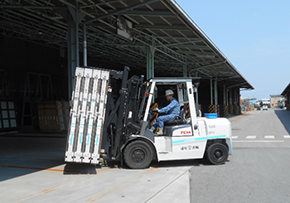 address
515-0001 Japan
1162-38, Okuchi-cho, Matsuzaka-shi, Mie prefecture,
TEL
81-(0)598-53-3431
FAX
81-(0)598-51-5391
Contents of Operation
Warehouse Business, Factory Process, Land Transportation
Handling Cargo
"1. Flat glass products 2. Safety glass (for a vehicle glass, industrial glass) 3. Glass products 4. Palette 5. Glass raw materials 6. Cullet 7.CGF product 8. Multi-layer glass other"
Features of Matsusaka Division
Integrated logistics system (3PL)
"As a partner company of a major glass manufacturer, we offer consistent production and logistic system (from transporting raw materials and packaging to storing products) within customer's factory."
Familiar with the know-how of the glass product handling
"We gain customer's trust as we put our effort into preventing damage of glass and improve effectiveness of labour work by using our wide range of skills. "
Special forklift of the original development
"From our years of experiences handling glass products, we designed a folk lift specifically for transporting glass products with the glass manufacturer. We make sure to store and transport flat glass safely by using the folk lift."
Facilities
Matsuzaka futo Warehouse
address
1822-5,Utukiji,Okutchi-cho,Matuzakashi
Site Area
7,240㎡
Warehouse Area
5,400㎡
Structure
Steel Construction
Handling Machinery
Overhead Crane 2.8t
Forklift up to 7t
Wharf
Water Depth 4.5m
Matsuzaka Okuchi 1st and 2nd Warehouse
| | |
| --- | --- |
| address | 1460,Utukiji,Okutchi-cho,Matuzakashi |
| Site Area | 6,610㎡ |
| Warehouse Area | 4,638㎡ |
| Structure | Steel Construction |
| Handling Machinery | Forklift up to 5t |
Matsuzaka Okuchi 3rd Warehouse
| | |
| --- | --- |
| address | 1510,Utukiji,Okutchi-cho,Matuzakashi |
| Site Area | 3,316㎡ |
| Warehouse Area | 2,550㎡ |
| Structure | Steel Construction |
| Handling Machinery | Forklift up to 3.5t |
Meiwa warehouse
| | |
| --- | --- |
| address | 931-1 Meiwa-cho, Takigun, Mie prefecture, Japan |
| Site Area | 3,751㎡ |
| Warehouse Area | 2,827㎡ |
| Structure | Steel Construction |
Vehicle
| | | | | |
| --- | --- | --- | --- | --- |
| Vehicle | Number | Handling Cargo, Packaging | Areas of Transportation | Equipment, Spec |
| Semi-trailer | 4 | Glass Products and others | Throughout Japan | |
| 15t | 7 | Glass Products and others | Throughout Japan | Low-floor vehicles |
| 10t | 1 | Glass Products and others | Throughout Japan | With UNIC |
Cargo Handling Vehicle
| | | | |
| --- | --- | --- | --- |
| Vehicle | Number | Handling Cargo, Packaging | Equipment, Spec |
| Shovel car | 8 | Introduction of glass (cullet), loading | Packet volume 0.8㎥ |
| Dump truck | 5 | Horizontal possession of glass (cullet) | Premise private car |
| Forklift | 71 | Packing of glass, warehousing, goods issue | 2.5~7.0t |